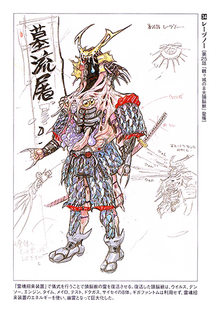 description to be added
Character History
An Onmyōdō monster used by Ashura to revive fallen monsters during the day of the Bon Festival at Tsuruga Castle. However, a cowardly boy named Kouji interfered in this monster's conjuring by accident, allowing Yellow Lion to destroy the sphere reviving the monsters with the boy's help. However, this monster uses the sphere's powers to revive into a giant ghost that was destroyed by the Live Robo.
Personality
to be added
Modus and Arsenal
Notes
Portrayal
Behind the Scenes
References
Ad blocker interference detected!
Wikia is a free-to-use site that makes money from advertising. We have a modified experience for viewers using ad blockers

Wikia is not accessible if you've made further modifications. Remove the custom ad blocker rule(s) and the page will load as expected.