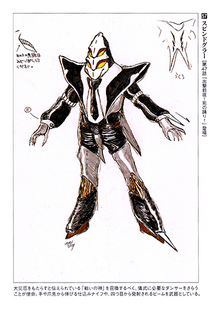 Spin Doggler (スピンドグラー, Supindogurā, 47): A monster used by Baraba to kidnap Haruka's dancing pupil, Hitomi, as part of the plan to revive the "War God" with the Underground Dance. Posing as a tap dancer, Haruka allows herself to be captured to save Hitomi. She then joins the team in blasting this monster with the Jet Cannon, and it is destroyed by Galaxy Robo.
Ad blocker interference detected!
Wikia is a free-to-use site that makes money from advertising. We have a modified experience for viewers using ad blockers

Wikia is not accessible if you've made further modifications. Remove the custom ad blocker rule(s) and the page will load as expected.