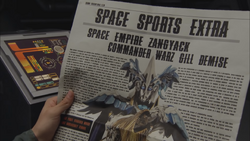 Space Sports Extra is a galactic newspaper. It reported on the death of Space Empire Zangyack's Commander Warz Gill. Basco saw this and found out that Captain Marvelous's bounty had risen to "Unlimited Reward". Why? We're High School Students
Notes
A TV Tropes troper suggested that giant robot fights are a popular sport in Zangyack-controlled space to explain how the Gokaigers' fight against Warz, which was between their robos (Kanzen GokaiOh and Great Warz), was printed in a sports newspaper.
Ad blocker interference detected!
Wikia is a free-to-use site that makes money from advertising. We have a modified experience for viewers using ad blockers

Wikia is not accessible if you've made further modifications. Remove the custom ad blocker rule(s) and the page will load as expected.