| | |
| --- | --- |
| | WARNING: This episode contains scenes of blood and bloodshed. Viewer discretion is advised! |
Space.5: 9 Ultimate Saviors (9人の究極の救世主, Kyūnin no Kyūkyoku no Kyūseishu) is the fifth episode of Uchu Sentai Kyuranger. It features Stinger's defection from Jark Matter thus uniting all nine Kyurangers, the debut of 01*04*06*08*09 KyurenOh and 01*02*03*05*07 KyurenOh, the first appearance of Kotaro Sakuma who will become Koguma Skyblue 5 episodes later, the final appearance of Eriedrone and Scorpio makes a brief appearance in this episode, albiet in a flashback.
This episode broadcast was accompanied by web broadcast of the fifth installment of Transformation Lessons ~Let's Star Change Together!~.
Synopsis
​With eight members in their team, the Kyurangers confront Eriedrone and Stinger. In the occasion, Stinger reveals his true allegiance and joins the other Kyurangers against Jark Matter.
Plot
to be added
Cast
Guest Cast
Suit Actors
Errors
Notes
As part of Super Hero Time, this episode aired alongside Kamen Rider Ex-Aid episode 22, Engineered History!.
Kyurangers featured in closing credits
KyurenOh Combinations:
Lucky Kyutama Luck Test

Hint: Salmon roe
Color: Red

The opening song has been updated with the following scenes:

During Raptor 283's introduction scene, she is now seen saluting instead of adjusting her glasses.
The Kyurangers together is now an 8-member team instead of 7.
Lucky, Garu, Balance, Champ, Naga, Hammie and Spada floating around with 88 Kyutama now includes Raptor.

During the Opening Credits, Shishi Red, Ookami Blue, Tenbin Gold, Oushi Black, Hebitsukai Silver, Chameleon Green, Washi Pink, and Kajiki Yellow are about to transform.
For the Closing Screen, Sasori Orange is finally fully unlocked, and all 9 Kyurangers strike a pose after that.
DVD/Blu-ray releases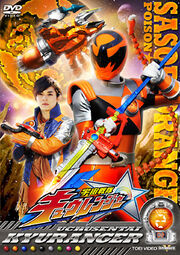 Uchu Sentai Kyuranger Volume 2 features episodes 5-8: Space.5: 9 Ultimate Saviors, Space.6: Flap! Dancing Star, Space.7: Take Back the Birthday! and Space.8: Secret of Commander Shou Ronpo.

Blu-ray Collection 1 comes with 12 episodes.

External Links
References