Sorrowful Knight Aigaron
Talk

0
9,867pages on
this wiki
Sorrowful Knight Aigaron (哀しみの戦騎 アイガロン Kanashimi no Senki Aigaron) is a general in the Deboss Army.
Character History
Aigaron is a general who cries all the time but has fierce tactics and fights with a battle axe.
He is the first of the Deboss Army's generals to be revived, donning a cloak, Aigaron went to Europe to steal a gem. In the process, Aigaron murdered Ian Yorkland's friend Shiro Mifune.Brave 4: Fire! The Gaburevolver of Courage
After they were the known alive Knights, Aigaron went on a full assault on the Kyoryugers without Daigo at the the time, and due to Hyogakki's plot, he couldn't cry lest he gets frozen, and so decided to use a new emotion: anger. He was so angry, that he glowed red at one point and he literally exploded in a plot to get rid of the Kyoryugers, though it was thanks to Ian's quick thinking that spared the Kyoryugers. Brave 24: Burn! The Seven Kyoryugers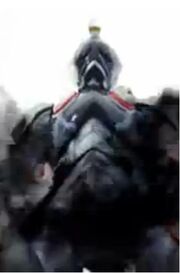 It was then revealed that Deboss had saved his life when he exploded, much to Ian's frustration at Aigaron's inability to stay dead. Brave 25: What's This! The Nightmare of the Deboss Army It turned out the Aigaron is suffering from a mental side effect resulting from his self destruction as he becomes extremely frightening and psychotic, with the telltale signs of having black eyes and tar-like tears, whenever he gets mad. It is only his feelings for Canderilia that Aigaron attempts self restraint when he is about to be consumed in rage.
Arsenal
A short one-handed blue ax decorated with eyes on the flat sides of the weapon.
Aigaron's fighting style usually consists of him having his arms close to his body in a Muay Thai style. He is not hesitant on using his kicks in a close-combat fight.
Behind the Scenes
Portrayal
Aigaron is voiced by Yū Mizushima.
Notes
Following the face theme of the Deboth Army, and his crying habit, Aigaron represents sad expressions. His name could be a play on "Eye Gallon" due to his habit of breaking into gushing tears during the first half of the series.
References
External Links