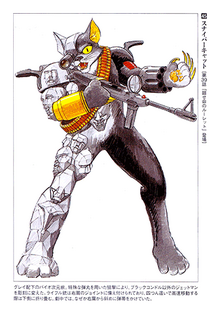 Sniper Cat (スナイパーキャット Sunaipākyatto?) (39): A result of Grey's Bio Dimensional Bug with cat DNA fusing with firearms, this monster serves his master in turning all the Jetmen minus Black Condor into chess pieces. This monster later appears to gun down Gai should he lose to Grey in a casino match, enlarging after his master loses before being destroyed by Jet Garuda with the Tetra Buster.
Ad blocker interference detected!
Wikia is a free-to-use site that makes money from advertising. We have a modified experience for viewers using ad blockers

Wikia is not accessible if you've made further modifications. Remove the custom ad blocker rule(s) and the page will load as expected.