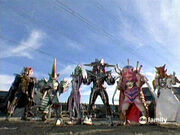 Slate is a copycat criminal that can mimic any monsters form with DNA aquired from Broodwing. Slate mimics Rhinix, Bugglesworth, Hydrax, Tomars, Sinuku, and Devastation. He also has his own giant robot, which is destroyed by the Delta Squad Megazord. Morgana uses her power to clone Slate into the six past monsters he was mimicking. With the help of Morgana, the monster squad takes down the Rangers. That is until the Red Ranger calls upon the S.P.D. Battlizer and contains Slate by destroying all of his clones.
Notes
His name is possibly a reference to the expression "blank slate", as this monster lacks any distinct features.
See Also
Ad blocker interference detected!
Wikia is a free-to-use site that makes money from advertising. We have a modified experience for viewers using ad blockers

Wikia is not accessible if you've made further modifications. Remove the custom ad blocker rule(s) and the page will load as expected.