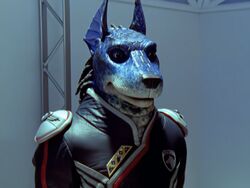 Sirius is the home planet of Commander Cruger and the planet to have the very first S.P.D. as an elite squad of galactic defenders. Its inhabitants are a race of dog-like humanoids with scaly skin. It was destroyed by Emperor Gruumm and his army.
Notes
The planet's name comes from the star, Sirius, also known as the Dog Star.
See also
Ad blocker interference detected!
Wikia is a free-to-use site that makes money from advertising. We have a modified experience for viewers using ad blockers

Wikia is not accessible if you've made further modifications. Remove the custom ad blocker rule(s) and the page will load as expected.