Sirender
Talk

0
9,872pages on
this wiki
 

Sirender
Number:
none assigned
Pilot:
Signalman
Sentai:
Gekisou Sentai Carranger
First Appearance:
{{{firstepisode}}}
Last Appearance:
{{{lastepisode}}}
Number of Episode
Appearances:
{{{numberofepisodes}}}
Full list of appearances
Length:
n/a m
Width:
n/a m
Height:
n/a m
Weight:
n/a tons
Speed:
n/a
"Sirender!"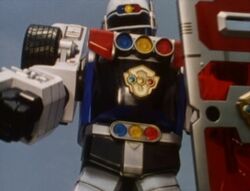 Sirender (サイレンダー, Sairendā): Signalman's personal police cruiser that transforms into a law-enforcement robot when Signalman says "Stand up! Sirender!" (スタンドアップ! サイレンダー, Sutando Appu! Sairendā). Comes (amidst regular-sized police cars) when Signalman uses the Signal Whistle (シグナルホイッスル, Shigunaru Hoissuru). In its robot mode it is armed with the Siren Vulcan (サイレンバルカン, Sairen Barukan), a powerful laser gun, the Wappagun (ワッパガン, Wappagan), a handcuff that shoots off on a chain, Siren Daggers (サイレンダガー, Sairen Dagā), blades that extend from the wrists, and Siren Shield (サイレンシールド, Sairen Shīrudo), a riot squad shield. Another weapon is the Signal Flash (シグナルフラッシュ, Shigunaru Furasshu) energy blast, an attack similar to the RV Robo's Plagnade Spark attack. It possesses tremendous strength that was able to hurl Minoru (in a box) all the way from Hokkaido to Tokyo with one fling. The front end becomes the lower legs (with the windshield as the feet), the rear end becomes the forearms (with the back wheels in front of the lower arms), and the back window becomes the upper back which reveals the head.
Sirender Battle Mode
"Stand up! Sirender!"
See also