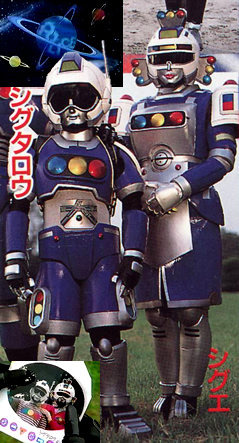 Sigtarou (シグタロウ, Shigutarō, 27–28, 35–36, 44, 48) is Signalman's son who lives back on the planet Police with his mother, Sigue.
Akibaranger
A homage to Sigue and Sigtarou appears in episode 11 of Hikonin Sentai Akibaranger: Season Two, when Delu-Knight mentions returning to his wife and son, Delue and Delutarou in his death flag phrase.
Ad blocker interference detected!
Wikia is a free-to-use site that makes money from advertising. We have a modified experience for viewers using ad blockers

Wikia is not accessible if you've made further modifications. Remove the custom ad blocker rule(s) and the page will load as expected.