"I'm sorry, Rangers, but we simply do not have enough information to proceed."
This article is a stub, meaning it needs more info. You can improve this RangerWiki article by expanding it.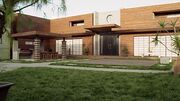 Shiba House is the home of the Shiba clan of Samurai and the secret base of the Samurai Rangers. It is protected by a series of defensive symbols so that evil forces cannot enter.
History
It is not known how long the Shiba House has existed, but it is at least as old as the previous generation of Samurai Rangers, appearing in flashbacks to that time, and it was the home of the Red Ranger and his family, along with Mentor Ji. Test of the Leader Room for One More
Design
Shiba House is a moderately large house, in which the Rangers and Mentor Ji each have their own quarters. The family room is the main response and strategizing area: the table in the middle of the room contains a touchscreen with a map of Panorama City. Also of note are the outdoor and indoor training areas.
Miscellaneous
As shown on Mia 's driver's license, the address of the Shiba House is:  85921 Florentine Prm, Panorama City, PR 649818 The Strange Case of the Munchies
Ad blocker interference detected!
Wikia is a free-to-use site that makes money from advertising. We have a modified experience for viewers using ad blockers

Wikia is not accessible if you've made further modifications. Remove the custom ad blocker rule(s) and the page will load as expected.