Aohisa Takayasu (高安 青寿, Takayasu Aohisa) also known as Seiju Umon played Sharma Tribe Knight Goushi (MammothRanger) in Kyōryū Sentai Zyuranger. Footage of his Zyuranger character appeared in several episodes of Mighty Morphin Power Rangers, including Happy Birthday, Zack & Jason's Battle, both depicting a warrior fighting the Knasty Knight.
He reprised his role as Goushi in Gokaiger episodes "The Day of Battle" and "Farewell Space Pirates".
2 years after Gokaiger, he went to voice Goushi in Zyuden Sentai Kyoryuger vs. Go-Busters: Dinosaur Great Battle! Farewell, Eternal Friends.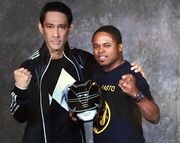 Archive Footage
Ad blocker interference detected!
Wikia is a free-to-use site that makes money from advertising. We have a modified experience for viewers using ad blockers

Wikia is not accessible if you've made further modifications. Remove the custom ad blocker rule(s) and the page will load as expected.