description to be added
Character History
A Nejire Beast used by Shibolena to use his stinger to brainwash the children Guirail captured for his plan to take out a communications building. Though held off by Guirail, Mega Red defeats Sasori Nezire with the Battle Rizer to break his hold over the children. Bitten by Bibidebi, Sasori Nezire is destroyed by Galaxy Mega's Mega Dash Cutter.
Personality
to be added
Modus and Arsenal
Notes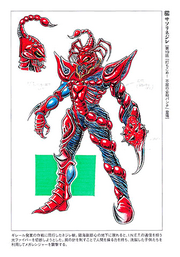 Portrayal
Conception
Behind the Scenes
See also
References
Ad blocker interference detected!
Wikia is a free-to-use site that makes money from advertising. We have a modified experience for viewers using ad blockers

Wikia is not accessible if you've made further modifications. Remove the custom ad blocker rule(s) and the page will load as expected.