Samurai Sentai Shinkenger Blu-Ray Box Set
Talk

0
Share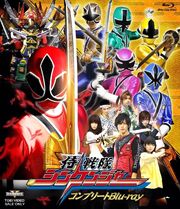 The Samurai Sentai Shinkenger Blu-Ray Box Set was released in 2014. It was the first Blu-Ray compilation set of a Super Sentai series to be released after the series had ended.
The first box set comes with the show's first 16 episodes, as well as the director's cuts of the first two episodes, and was released on February 7th 2014. The second box set comes episodes 17-33, as well as episodes 24 and 25 of Kamen Rider Decade. and was released on April 11th 2014. The third and final box set included episodes 34-49, and was released on June 13th 2014. Each set costs 20,790 yen.[1]
References
Ad blocker interference detected!
Wikia is a free-to-use site that makes money from advertising. We have a modified experience for viewers using ad blockers

Wikia is not accessible if you've made further modifications. Remove the custom ad blocker rule(s) and the page will load as expected.