Sakura (Kakuranger)
Talk

0
9,861pages on
this wiki
Sakura (サクラ, Sakura?, Cherry Blossom) is the Pink Cherry Blossom of the Flowery Kunoichi Team. Her uniform was Pink and her flower was the Cherry Blossom.
Behind the scenes
Portrayal
Sakura was played by Keiko Hayase, who previously played Remi Hoshikawa/FiveYellow in Chikyuu Sentai Fiveman.
Akibaranger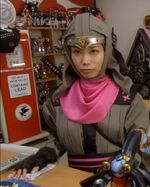 In
Hikonin Sentai Akibaranger
, resident cosplayer
Kozkoz
cosplayed as Sakura in
Ep. 2: The Activation of a Bizarrely Decorated Vehicle Summons a Full Blast of Red Delusion
.