SS Pamaan (スースーパマーン, Sū Sū Pamān, 25): Bowzock's best hero researcher. He was leader of the Zokuranger, calling himself "Zoku Red" (ゾクレッド, "Zokkureddo"), usually fought with Red Racer. He wielded a two-laser hole gun and a sword similar to Red Racer's. He was killed by RV Robo while he was saying the name of his sword's final attack, which had a very long name ("Great Galaxy Blitzkrieg Science Darkness Sword: Lightning Blitzkrieg Plasma Cyber Aurora Centrifugal Gravity Super Thunder..." (大銀河電撃科学暗黒剣・稲妻電撃プラズマサイバーオーロラ遠心重力スーパーサンダー..., Dai Ginga Dengeki Kagaku Ankoku Ken Inazuma Dengeki Purazuma Saibā Ōrora Enshin Jūryoku Sūpā Sandā...)), one that referred to several Sentai Robos' final sword attacks from previous series.
Personality
to be added
Modus and Arsenal
Notes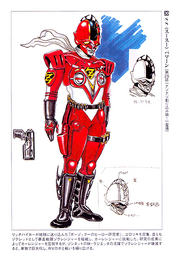 Portrayal
Behind the Scenes
SS Pamaan's name, when pronounced as it's intended ("Su Su Pumaan" versus "Es Es Pamaan") is a pun on Superman, an American comic book superhero created by DC Comics
SS Pamaan's motifs are the one of various tokusatsu heroes (Sentai heroes, Kamen Riders, Ultramen).
SS Pamaan's finishing weapon and move combines many terms used in many swords and finishers in earlier Sentai:

Great - Great King Sword (Dairen'oh's weapon)
Galaxy – Electron Galaxy Cut (Goggle Robo finisher)
Blitzkrieg – Blitzkrieg Sword (Change Robo's weapon)
Science – Science Sword (Dyna Robo's weapon)
Lightning – Lightning Gravity Fall (Dyna Robo finisher)
Plasma – Aurora Plasma Return (Sun Vulcan Robo finisher)
Aura – Final Aura Burst (Great Five finisher)
Gravity – Lightning Gravity Fall (Dyna Robo finisher)
Super Thunder – Super Thunder Volt (Change Robo's finisher)
This random combination of names is similar to the name of the villain team from Hikonin Sentai Akibaranger Season Tsuu: Neo Dimensional Brain Reconstructive Underground True Empire of Baros lol (both this Carranger episode and the Akibaranger franchise were written by Naruhisa Arakawa)
See Also
Ad blocker interference detected!
Wikia is a free-to-use site that makes money from advertising. We have a modified experience for viewers using ad blockers

Wikia is not accessible if you've made further modifications. Remove the custom ad blocker rule(s) and the page will load as expected.