Ryo of the Heavenly Fire Star's grandson is RyuuRanger (リュウレンジャー, Ryū Renjā) of a new team of Dairangers composed of the previous Dairangers' grandchildren, formed to fight the returned Gorma Tribe 50 years after the previous Dairangers defeated them.
RyuuRanger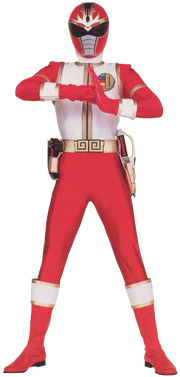 Mythical Chi Beast
Arsenal
Dragon-Fist attacks
Heavenly Fire Star Lightning Blaze Destruction
Heavenly Fire Star Blaze Destruction
Notes
Unlike the other two RyuuRangers, he is the second-in-command of his team of Dairangers, as opposed to being the leader.
Technically he is the first Sentai Red to be introduced as the Sentai second-in-command (rather than becoming it later like Goro Sakurai). But the first full time Red Sentai second-in-command, would be introduced next season.
Behind the scenes
Portrayal
As with the other future Dairangers, Ryo's grandson is played by Ryo's actor Keiichi Wada (和田 圭市, Wada Keiichi). As RyuuRanger, his suit actor was Naoki Ōfuji.
See Also
Ad blocker interference detected!
Wikia is a free-to-use site that makes money from advertising. We have a modified experience for viewers using ad blockers

Wikia is not accessible if you've made further modifications. Remove the custom ad blocker rule(s) and the page will load as expected.