Ryan (Samurai)
Talk

0
8,832pages on
this wiki
Redirected from Ryan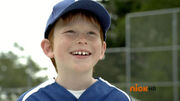 Ryan was a young kid who played baseball in Deal With a Nighlok. Doubletone tried to make Ryan give up on his dreams as part of a deal to bring his father home from his US military duties. Mia and Kevin try to speak to him but he refuses to talk to them. Then later on he is told to throw his baseball equipment in the trash and then he realizes that this was a trick. It was part of Doubletone's plan to make the Sanzu River rise if he made him cry but the Samurai Rangers stopped the plan. Then later on his coach tells him that the garage man found his equipment in the trash. With help from Jayden and his symbol power he creates an image of his father to ease his worries.
Notes
Like his counterpart Ryota from Shinkenger he plays baseball.
Also like his counterpart he misses a member of his family but unlike his counterpart who misses his grandfather who passed away he misses his father who is serving in the Armed Forces.
See Also