The Rousokuloid (ロウソクロイド Rōsokuroido) is a Metaloid created by Escape when the Kowagaraseru Metavirus infects a candle. The flame on his head has a hypnotic effect that drags people into sleep to experience their worst nightmares; dying in the nightmare meaning death in real life.
After Beet Buster and Stag Buster snuff out his flame during the first encounter, Rousokuloid relights himself while arming himself with Shokudai Rod lance to defend his flame. While attempting to hijack a television station to induce nightmares across the airwaves, Rousokuloid is destroyed by Yellow Buster, Beet Buster, and Stag Buster.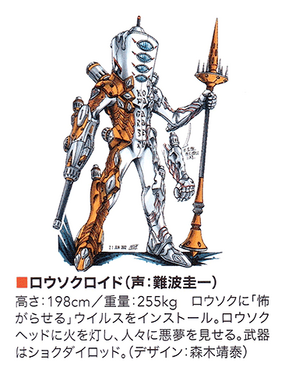 Notes
Identification Number: A-96
Install Metavirus: KOWAGASERU
Production Motif: Candle
Height: 198 cm. (6 feet, 6 inches)
Weight: 255 kg. (562 lbs.)
Notes
Rousokuloid is voiced by Keiichi Nanba (難波 圭一)
Rousokuloid's suit actor is Hiroyuki Tanaka.
Conception
Ad blocker interference detected!
Wikia is a free-to-use site that makes money from advertising. We have a modified experience for viewers using ad blockers

Wikia is not accessible if you've made further modifications. Remove the custom ad blocker rule(s) and the page will load as expected.