Ad blocker interference detected!
Wikia is a free-to-use site that makes money from advertising. We have a modified experience for viewers using ad blockers

Wikia is not accessible if you've made further modifications. Remove the custom ad blocker rule(s) and the page will load as expected.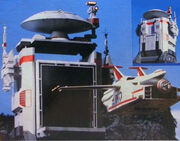 Round Base (ラウンドベース, Raundo Bēsu?): A box-like base capable of space travel. It rests on the main Red Planet of the Flash system where it is protected by the robot Mag.
After Mess arrives on Earth, Jin leads a scheme to take the Round Base, landing all of his teammate's vehicles within and then taking it without the permission of the elders of Flash. After Sara is able to disable Mag, the team uses the ship to return to Earth after 20 years and use it as their home base.Ep. 1: Hurry! Save the Earth