description to be added
Character History
This Nezire was partially created from Shibolena's DNA, linking them via the rose on Shibolena's rapier. As a result, Bara Nezire could recover from any wound as long as Shibolena was all right. While Chisato goes off after Shibolena, the other Megarangers have a hard time fighting Bara Nezire who whips the Megarangers with her vines and blast them with her shoulder flowers. Deciding to finish the fight, Bara Nezire allows Bibidebi to bite her and she overpowers Galaxy Mega. However, when Mega Yellow destroys Shibolena's rose, Bara Nezire looses her advantage and is destroyed by Galaxy Mega's Galaxy Lance.
Personality
to be added
Modus and Arsenal
Notes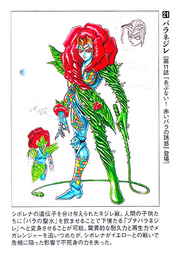 Portrayal
Conception
Behind the Scenes
References
Ad blocker interference detected!
Wikia is a free-to-use site that makes money from advertising. We have a modified experience for viewers using ad blockers

Wikia is not accessible if you've made further modifications. Remove the custom ad blocker rule(s) and the page will load as expected.