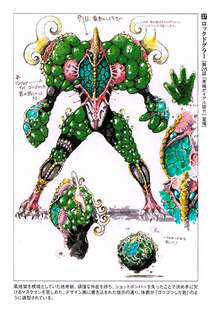 Rock Doggler (ロックドグラー, Rokkudogurā?, 28): A monster from Hell's Wind, this monster helps Kiros in his plan to kill off the Maskmen. Able to turn into a boulder, it increases its power by absorbing energy from the explosion it causes. While Mask Red is held at the bay of Kiro, this monster attacks the other Maskmen. it was tricked into being attacked by its master and is defeated by the Maky Crash and destroyed by Great Five.
Ad blocker interference detected!
Wikia is a free-to-use site that makes money from advertising. We have a modified experience for viewers using ad blockers

Wikia is not accessible if you've made further modifications. Remove the custom ad blocker rule(s) and the page will load as expected.