Road Jigen (ロードジゲン, Rōdojigen, 4-5): Originally a traffic light infused with Radiguet's Dimensional Bug on its thigh, this monster caused trouble by disrupting the traffic from traffic light malfunction to ripping the road. Though it overpowered the Jetman, Road Jigen is defeated once White Swan arrives at the nick of time. But once enlarged, Road is wounded during the fight with the Jet Machines. Once fully healed, Road Jigen resumes its attack and was the first monster destroyed by the Icarus Haken.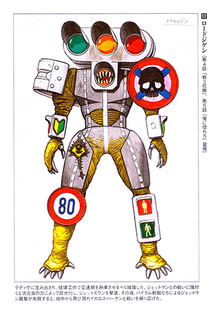 Ad blocker interference detected!
Wikia is a free-to-use site that makes money from advertising. We have a modified experience for viewers using ad blockers

Wikia is not accessible if you've made further modifications. Remove the custom ad blocker rule(s) and the page will load as expected.