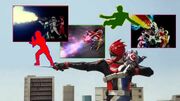 "Japanese heroes are influenced by classic Japanese theater. Most of them do finishers from right-to-left!"
The Right to Left Rule, as explained by Nobuo Akagi (AkibaRed) in episode 12 of Hikonin Sentai Akibaranger: Season Two, is a trope used in Japanese hero shows including tokusatsu. Most heroes perform their finishing attack on the right side to the villain on the left, which has been done in classic Japanese theatre.
Ad blocker interference detected!
Wikia is a free-to-use site that makes money from advertising. We have a modified experience for viewers using ad blockers

Wikia is not accessible if you've made further modifications. Remove the custom ad blocker rule(s) and the page will load as expected.