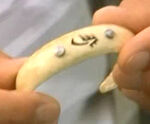 "Jungle Beasts, Spirits Unleashed!"
The Rhino Morpher is a Rhino-themed blade used to morph Dominic Hargan into the Rhino Ranger. It has a standby mode in the form of a wooden clasp bracelet, bearing his special logo.
The Rhino Ranger's morpher was also his personal weapon. Occasionally referred to as the Rhino Blade, this large combination gauntlet/blaster/blade weapon was called forth by touching the bracelet given to Dominic by RJ to "Ranger up" his Animal Spirit. It could also combine with any Claw Booster to form the Jungle Blade.




Morphing Sequence
The bracelet changes into the Rhino Blade for use as a morpher, announcing "Rhino Morpher, Initiate!". Morpher in hand, Dominic calls "Jungle Beast, Spirit Unleashed!" to morph.
See Also
Ad blocker interference detected!
Wikia is a free-to-use site that makes money from advertising. We have a modified experience for viewers using ad blockers

Wikia is not accessible if you've made further modifications. Remove the custom ad blocker rule(s) and the page will load as expected.