Robotic Interactive Canine, or simply just R.I.C., is a robotic canine asset with many special features. R.I.C. was scheduled for retirement before being severely damaged while on a mission with Sydney.
R.I.C. 2.0
In an effort to prevent R.I.C. from being discarded, Sydney turns to Bridge for help. With Boom's help, Bridge reinvents R.I.C., dubbing him "R.I.C. 2.0". In his upgraded form, R.I.C. is able to transform into a weapon for the Rangers called the Canine Cannon when the bone-shaped key is placed in his mouth. R.I.C. was later upgraded to be used in the Red Ranger's Battlizer system, forming the Sonic Mode armor. During the final battle with Gruumm, Broodwing and their forces, R.I.C. played a vital role, freeing Boom and Kat from imprisonment, containing Broodwing as the Canine Cannon and fighting to defend Delta Base.
Canine Cannon
R.I.C. can be transformed into Canine Cannon - a weapon that can fire a powerful energy blast to take down criminals and imprison them in the containment cards instantly.

S.P.D. Battlizer
Cyber Mode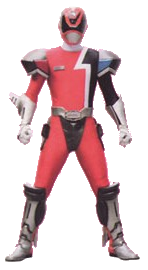 Sonic Mode
R.I.C. 3.0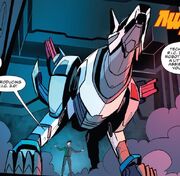 See Also
References