description to be added
Overview
Quester Robo Turbo (Rapidly) (クエスターロボ 疾/ターボ, Kuesutā Robo Tābo, 23): A super-rapid attack specialized robot, it was the first Quester Robo built by Gai and Rei for their plan to destroy the building in which the Precious were kept in order to steal them. It was destroyed by SirenBuilder's Triple Liquid Bomber and Ultimate DaiBouken's Ultimate Buster after Souta Mogami's old spy partner, Toba, detonated a bomb installed inside the cockpit.
History
Notes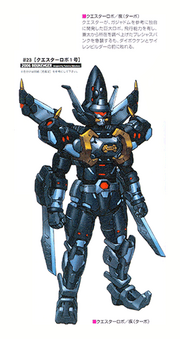 See Also
References
Ad blocker interference detected!
Wikia is a free-to-use site that makes money from advertising. We have a modified experience for viewers using ad blockers

Wikia is not accessible if you've made further modifications. Remove the custom ad blocker rule(s) and the page will load as expected.