description to be added
Overview
Quester Robo Radial (Advance) (クエスターロボ 進/ラジアル, Kuesutā Robo Rajiaru, 36): It is designed after an armored tank, generating electrical power with its Gordom Engine. Created to use the Precious "The Mountain Crushing Iron Rod" and cause havoc with it. In the experiments the robo just destroyed a single mountain but in the completed form, it can empower the Precious and not even Siren Builder and DaiVoyager together could oppose it. It was destroyed when the mysterious boy Taro took back the Precious with his bare hand and gave the chance for the Boukenger to use the Triple Liquid Bomber and the Adventure Double Screw.
History
Notes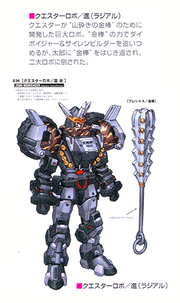 References
Ad blocker interference detected!
Wikia is a free-to-use site that makes money from advertising. We have a modified experience for viewers using ad blockers

Wikia is not accessible if you've made further modifications. Remove the custom ad blocker rule(s) and the page will load as expected.