The previous KirinRanger (キリンレンジャー, Kirin Renjā) is the predecessor of Kazu of the Heavenly Time Star. He was part of the past team of Dairangers led by Ryo's father Zhang Liao.
KirinRanger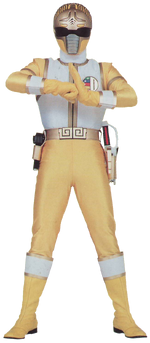 Mythical Chi Beast
Arsenal
Kirin-Fist
Heavenly Time Star Time Reversal
Heavenly Time Star Falling Headbutt
Two-Day Hangover Headache-Fist
Behind the scenes
Portrayal
to be added
See Also
Ad blocker interference detected!
Wikia is a free-to-use site that makes money from advertising. We have a modified experience for viewers using ad blockers

Wikia is not accessible if you've made further modifications. Remove the custom ad blocker rule(s) and the page will load as expected.