| | |
| --- | --- |
| | This article is about a/an event/campaign attached to shows in the Power Rangers franchise. |
Power Rangers emPOWER is a exclusive program to help spread the word about ways to keep kids and families healthy, all inspired by the Power Rangers values of teamwork, confidence, physical activity, and friendship.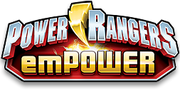 Developed in partnership with leaders in children's services, this initiative was activated in more than 5,000 school programs nationwide in 2011, with more than 100,000 teachers in 2012, and will continue to grow in 2013. The program provides resources, recipes, and tips online for parents and engages with children and families at live events. Just as the Power Rangers use teamwork to solve a different challenge in every episode, Power Rangers emPOWER provides parents and community leaders the tools they need to work together to grow healthy kids. This initiative is positive and fun, emphasizing kids' strengths and potential by providing children and parents with accessible resources to reinforce healthy choices.
Power Rangers Values
Standing for What's Right: Power Rangers are a powerful force committed to good deeds and defeating evil.
Teamwork and Cooperation: Power Rangers always work as a team. By working together and looking out for one another, they overcome challenges, succeed in their missions, and solve important problems.
Confidence: Every Power Ranger succeeds because they believe in themselves and their friends! Confidence gives them the personal strength to face every new difficulty.
Physical Activity and Healthy Eating: The physical action in the Power Rangers inspires kids to get up and move around. Imitating Power Ranger poses and moves promotes early patterns of exercise. Eating right helps the Rangers stay fit!
Caring and Friendship: They may be a team of fighting superheroes out to promote fairness and save the world, but the Power Rangers also are a close-knit group of teenage pals. Even though they're all different, they accept each other's individuality, and are always around to help a Power Ranger in need.
See also