Power Rangers Time Force: Photo Finish
Talk

0
Share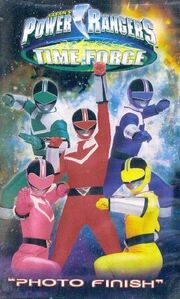 Power Rangers Time Force: Photo Finish is the third video release of Power Rangers Time Force.
Episodes on video
In the video, the film featured the following episodes as segments that recently appeared while they were broadcast back in July 2001. These 3 episodes included:
Movie Madness, Part 1 & 2 (#24 & 25)
Full Exposure (#23)
Cast of characters
Notes
Despite reportedly being released in October of 2001, this VHS uses the original broadcast version of "Full Exposure" instead of the re-edited version made after the events of 9/11. (Both parts of "Movie Madness" were never altered)
See also
Ad blocker interference detected!
Wikia is a free-to-use site that makes money from advertising. We have a modified experience for viewers using ad blockers

Wikia is not accessible if you've made further modifications. Remove the custom ad blocker rule(s) and the page will load as expected.