Power Rangers Super Samurai Volume 3: Rise of the Bullzooka
Talk

0
Share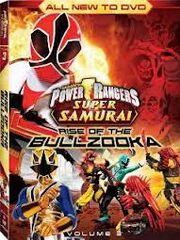 Power Rangers Super Samurai Volume 3: Rise of the Bullzooka 
is an 
Power Rangers Super Samurai
 DVD. It's was released on January 15th, 2013.
Boxart blurb
Rangers Together, Samurai Forever! - Getting new upgrades, surviving big attacks, what's next? Oh yeah.......the new BULLZOOKA! Shooting stronger than a regular bazooka and the strong force of like an earthquake. This time, Mia (the pink ranger) meets Spike and cheers him up with happiness, hungry ranger fever, teamwork with glue, and Cody returns to give the BULLZOOKA. So amazing, you gotta see for yourself.
Episodes Contain:
Ad blocker interference detected!
Wikia is a free-to-use site that makes money from advertising. We have a modified experience for viewers using ad blockers

Wikia is not accessible if you've made further modifications. Remove the custom ad blocker rule(s) and the page will load as expected.