Power Rangers Super Samurai
Talk

81
8,839pages on
this wiki
| | |
| --- | --- |
| | This article is about a/an series entry (continuing the 18th) in the Power Rangers franchise. |
"Super Samurai" redirects here. For the first episode of this season, see Super Samurai (episode)
Power Rangers: Super Samurai (often abbreviated as PRSS or Super Samurai) is considered the continuation of the eighteenth series entry, and the ninteenth official season of the Power Rangers franchise. It is the continuation of Power Rangers Samurai which continues the adaption of the 33rd Super Sentai season, Samurai Sentai Shinkenger. The season continues Samurai's tradition to be shot and broadcast in HD. The second set of 20 episodes began airing on February, 18 2012 at 12n/11c.[1]. Produced by SCG Power Rangers. The series picks up where the last season left off, with Antonio, the Gold Ranger about to access the Black Box.
Chronologically, Clash of the Red Rangers, a TV movie aired after Samurai, fits in the middle of this season.
Synopsis
Power Rangers Super Samurai
powers-up with the Rangers continuing to wage their battle against the evil
Master Xandred
, who has now joined forces with a new super villain, the malevolent
Serrator
.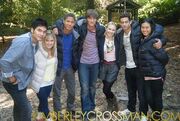 The Samurai Rangers learn to harness the power of the legendary Black Box to form all new Megazord combinations and become Super Samurai!
Through the power of the Black Box, the Samurai Rangers are able to tap into the power of their ancestors and unlock Shogun Mode to help protect humanity from the Netherworld's vile villains. The Black box also allows the Super Samurai to morph into Super Mega Mode inside the Megazord cockpit, which enhances their powers to aid in the battle against super monsters. In addition, a new super weapon, the Bullzooka, will make its first appearance, harnessing some serious laser power to help in the battle to stop the evil Serrator. And with each new adventure, the day gets closer and closer when Jayden, the "Red Samurai Ranger"'s secret will be revealed.
Characters
Rangers
Main article: Samurai Rangers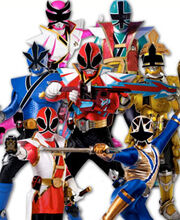 Past Rangers
Jayden's father (Red Samurai Ranger)
Unnamed previous Red, Blue, Green, Yellow, and Pink Rangers.
Allies
Villains
The villains are from the Netherworld.
Arsenal
Main article: Arsenal (Samurai)
Morphers
Weapons
Modes
Samurai Ranger (through Samuraizer)
Mega Mode (through Spin Sword becoming Mega Blade)
Super Mode (through Black Box)
Super Mega Mode (through Black Box and Mega Blade)
Shark Attack Mode (through Shark Disc/Spin Sword becoming Shark Sword)
Mega Shark Mode (through Shark Sword)
Zords
Samurai Gigazord[11] - Combination of eleven zords.
SharkZord - Red Samurai Ranger's sword and artillery zord

Samurai Shark Megazord - Combination with Samurai Megazord

LightZord - Gold Samurai Ranger's weapon set and third zord (new zord)

Samurai Lightzord - Combination with the Dragon, Bear, Ape, and Turtle FoldingZords.
Episodes
See Also
Reception and Ratings
To be added
External Links
References