Power Rangers Samurai Volume 5: The Ultimate Duel
Talk

0
Share
Power Rangers Samurai Volume 5: The Ultimate Duel is a DVD for Power Rangers Samurai. It is slated to be released on July 16th, 2013.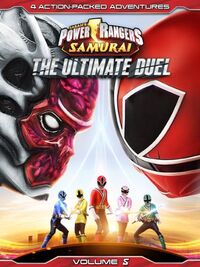 Synopsis
With Master Xandred's power surging out of control, the Sanzu River seeping into our world, and giant Moogers running on a rampage, the Power Rangers Samurai must enter the Tengen Gate to retrieve the most powerful samurai weapon yet - The Black Box! But when Deker kidnaps Jayden, the remaining Samurai - Kevin, Emily, Mia, Mike and Antonio - must join forces to battle the web-shooting Arachnitor, dream-invading Rhinosnorus, and giant Spitfangs. Even after Mia learns the tragic origin of Dayu and Deker, nothing can stop the ultimate duel between Deker and the Red Ranger in these final four episodes!
Episodes
Ad blocker interference detected!
Wikia is a free-to-use site that makes money from advertising. We have a modified experience for viewers using ad blockers

Wikia is not accessible if you've made further modifications. Remove the custom ad blocker rule(s) and the page will load as expected.