Power Rangers Samurai Volume 2: A New Enemy
Talk

0
Share
Ad blocker interference detected!
Wikia is a free-to-use site that makes money from advertising. We have a modified experience for viewers using ad blockers

Wikia is not accessible if you've made further modifications. Remove the custom ad blocker rule(s) and the page will load as expected.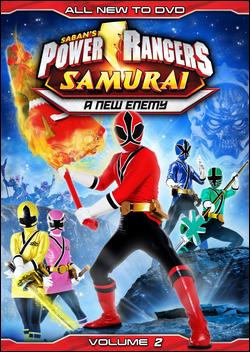 Power Rangers Samurai Volume 2: A New Enemy
is a DVD released for 
Power Rangers Samurai
, alongside 
Power Rangers Samurai Volume 1: The Team Unites
. It was released June 19th, 2012.
Plot
Centuries ago in Japan, Nighlok monster attacked. But 5 samurai rangers, passed down from generations used mighty symbol powers to seal Master Xandred. But Master Xandred has risen again and planned to flood the earth. Luckily, a new generation of rangers stand beside us. They're called the Power Rangers Samurai.
Episodes
Bonus Features
Bloopers Featurette
"Ask a Ranger" Featurette
Weapons Gallery
English 5.1 Dolby Digital Audio
Spanish and French 2.0 Dolby Digital Audio