Power Rangers Samurai Volume 1: The Team Unites
Talk

0
Share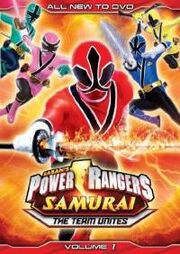 Power Rangers Samurai Volume 1: The Team Unites 
is the first DVD released for 
Power Rangers Samurai
 It was released in June 19th, 2012.
Plot
Centuries ago in Japan, Nighlok monsters attacked. But 5 samurai rangers, passed down from generations used mighty symbol power to seal Master Xandred. But Master Xandred has risen again and planned to flood the earth. Luckliy, a new generation of rangers stand aside us. They're called the Power Rangers Samurai.
Episodes
Bonus Features
"Auditions" Featurette
"Train Like a Ranger" Video
"Power Ranger Swarm" Video
Character Gallery
English 5.1 Dolby Digital Audio
Spanish and French 2.0 Dolby Digital Audio
Ad blocker interference detected!
Wikia is a free-to-use site that makes money from advertising. We have a modified experience for viewers using ad blockers

Wikia is not accessible if you've made further modifications. Remove the custom ad blocker rule(s) and the page will load as expected.