Power Rangers Samurai
Talk

11
9,852pages on
this wiki
| | |
| --- | --- |
| | This article is about a/an series entry (the 18th) in the Power Rangers franchise. |
This article is about the season. For the S.P.D. episode, see Samurai (episode).
Power Rangers: Samurai (often abbreviated as PRS or Samurai) is the eighteenth series entry of the Power Rangers franchise. It is an adaption of the 33rd Super Sentai season, Samurai Sentai Shinkenger. The second set of 20 episodes is currently airing in 2012 and has been called "Super Samurai".[1]
After the cancellation of the series by Disney after RPM, the show was reacquired by Haim Saban's company, Saban Brands. Samurai premiered on its new network, Nickelodeon and Nicktoons, on February 7, 2011 in the US and May 7, 2011 in the UK. The season is the first to be shot and broadcast in HD and the second series to be split into more than one season without the changes made common in Turbo's second half since Mighty Morphin Power Rangers. Produced by SCG Power Rangers, the production's aim with the tone of Samurai is a "brighter tone and gets an infusion of fun and comedy that wasn't present in Jungle Fury and RPM.[2]
In 2012, the show had an average of 2 million viewers on Nickelodeon.[3] Ratings in 2011 were higher, close to or slighter more than 3 million [4] [5] [6] but were down starting in October[7] The highest rated episode was May 15th 2011's "The Blue and the Gold", with 3.7 million viewers. [8]
Synopsis
A new generation of Power Rangers must master the mystical and ancient "Samurai Symbols of Power," which give them control over the elements of: Fire, Water, Sky, Forest, Earth and Light. Under the guidance of their all-knowing mentor and the aid of their devoted animal Zords, they battle the dark forces of the Netherworld and a mysterious warrior who is bent on destruction.
Characters
Rangers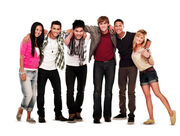 Allies
Villains
The villains are from the Netherworld.
Nighlok
Arsenal
Morphers
Zords
SharkZord - Red Samurai Ranger's sword-like artillery zord
Episodes
DVD Release
Games
Trivia
See also
External links
References