| | |
| --- | --- |
| | This article is about a/an major event/campaign celebrating shows in the Power Rangers franchise. |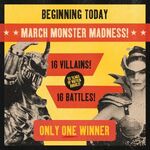 Power Rangers Monster Madness is a bracket-style, online voting event focusing on villains. This is in celebration of the NCAA basketball tournament held in March. Fans would vote via Instagram Stories on the official @PowerRangers account. It was first announced as "March Morphin Madness" but later dropped "March" from the title.
Monster Madness followed Power Rangers Morphin Madness and Power Rangers Megazord Madness but differs in format as it does not have a sub site in the Power Rangers website and is native to Instagram.
Plot
The villains span all 25 years to find the top "worst of the worst." Mighty Morphin Power Rangers leads the pack with four villains nominated in the tournament.
Round One
The matchups include:
Xandred vs. Divatox
Tenaya vs. Ransik
Sledge vs. Rita Repulsa
Lord Zedd vs. Master Org
Ivan Ooze vs. Koragg
Goldar vs. Astronema
Galvanax vs. Psycho Rangers
Diabolico vs. Madame Odius
Round Two
The matchups include: to be added
Round Three
The matchups include: to be added