Power Rangers Dino Charge
Talk

70
| | |
| --- | --- |
| | This article is about a/an series entry (the 22nd) in the Power Rangers franchise. |
Power Rangers Dino Charge is the 22nd season of Power Rangers. The series is based on Zyuden Sentai Kyoryuger.
Production
"Power Rangers Dino Charge" was trademarked by Saban Brands in 2014 prior to the run of Power Rangers Super Megaforce.
Plot
In Dino Charge, the Energems were given to ten dinosaurs for safe keeping by an alien, but they were lost when asteroids hit the Earth and wiped out the dinos. Now in the present day, an intergalactic bounty hunter starts sniffing around Earth looking for the Energems in order to harness their power and annihilate the world, so a team of Power Rangers forms to find the Energems first and fight the bounty hunter and other threats with dino-powered swords, blasters, Zords, and Megazords.
Characters
Rangers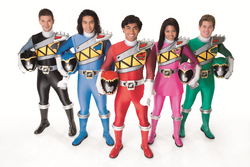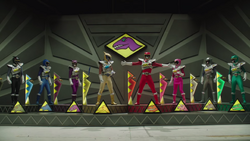 Allies
Villains
Monsters
Supporting Characters
Arsenal
Morphers/Sidearms
Multi-Use Devices
Individual Weapons and Team Weapon
Dino Spike ◆◆◆◆◆

T-Rex Smasher ◆
Para Chopper ◆
Stego Shield ◆
Raptor Claw ◆
Tricera Drill ◆
Communication Devices
Vehicles
Zords
Dino Charge Zord System
Legend:◆ piloted mecha, ● other
Episodes
Video Release
Toyline
Video Games
Notes
See also
External links
References