Power Rangers Card Scanner

Series:
Megaforce
Developer(s):
Bandai
Publisher(s):
Saban Brands
Release date:
2012
Genre:
Game modes:
scanner, video player, slot
Platform(s):
iOS, android
The Power Rangers Card Scanner[1] is an iOS and Android app that has the ability to unlock videos from cards found in Power Rangers Megaforce Toys and the Power Rangers Action Card Game. Its functionality was later fully integrated into the Power Rangers Scanner app.
Functions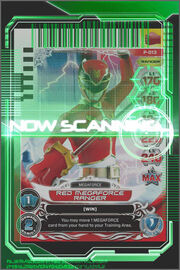 Gallery Mode: Simply point your camera at the card, wait a moment for the scanner to recognize the card, and watch an action packed Power Rangers video clip!
Card Game Mode: In Card Game Mode, the application can be used to determine the Power Level of a card. These levels appear on the right side of each card (Levels 1 -6). To begin, point the camera at the card. When the barcode of that card is recognized, a special Power Rangers video clip will be played. That will be followed by a number from 1 to 6. Use that number to determine the power Level of that card. For example, the number 4 means the Power Level of that card is 4 as shown on the right side of the card.
References
Ad blocker interference detected!
Wikia is a free-to-use site that makes money from advertising. We have a modified experience for viewers using ad blockers

Wikia is not accessible if you've made further modifications. Remove the custom ad blocker rule(s) and the page will load as expected.