Power Rangers Action Card Game
Talk

0
9,840pages on
this wiki
The Power Rangers Action Card Game utilizes the Power Cards from Power Rangers Megaforce as a collectible trading card game celebrating Power Rangers 20, the Power Rangers' 20th anniversary. As such they can be used in conjunction with the Gosei Morpher toy or in decks.
Based on the data on the Gosei Morpher[1] there are several sounds, and thus several cards that are possibly available featuring all the past core rangers, most of the sixth rangers, several of the power-ups of each team, Megazords and the teams themselves.
How to play
to be added
List of cards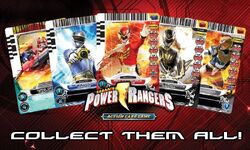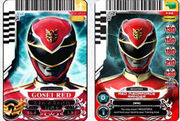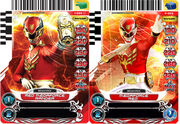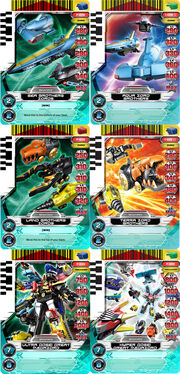 The Gosei Morpher identifies what cards are part of the series.
Go Go Megaforce
Summon Zord
Ultra Mode Morph
Summon Battle Gear
Summon Megazord
(this slot in the Gosei Morpher is for a "glowing sound")
Power Rangers Card Scanner

The Power Rangers Card Scanner[2] is an iOS and Android app that has the ability to unlock videos from cards found in Power Rangers Megaforce Toys and the Power Rangers Action Card Game.
Functions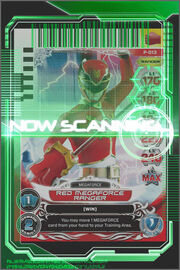 Gallery Mode: Simply point your camera at the card, wait a moment for the scanner to recognize the card, and watch an action packed Power Rangers video clip!
Card Game Mode: In Card Game Mode, the application can be used to determine the Power Level of a card. These levels appear on the right side of each card (Levels 1 -6). To begin, point the camera at the card. When the barcode of that card is recognized, a special Power Rangers video clip will be played. That will be followed by a number from 1 to 6. Use that number to determine the power Level of that card. For example, the number 4 means the Power Level of that card is 4 as shown on the right side of the card.
Notes
In the previews for Series 3, Universe of Hope, some cards show the Mega Rangers and, mysteriously, some of the Pre-Zyuranger team members.[3] [4] [5] Their appearance is unexplained.
See Also
References