"I'm sorry, Rangers, but we simply do not have enough information to proceed."
This article is a stub, meaning it needs more info. You can improve this RangerWiki article by expanding it.
| | |
| --- | --- |
| | This article is about a/an set of morphing implements in Power Rangers (2017), existing in a different continuity than the TV series. |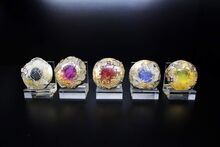 For the original TV version of these items, see Power Coins.
The Power Coins are a set of supernatural crystals of various colors, which are the power sources of the Power Rangers and are used to morph.
History
to be added
Gallery
Notes
Ad blocker interference detected!
Wikia is a free-to-use site that makes money from advertising. We have a modified experience for viewers using ad blockers

Wikia is not accessible if you've made further modifications. Remove the custom ad blocker rule(s) and the page will load as expected.