description to be added
Character History
Pot Taoist (壷道人, Tsubo Dōjin, 26 & 27): The first of the stronger Gorma, whose opponents had to be extraordinarily quick and talented to escape his attack. Though the Dairanger tried to develop their skills to face him, he captured first Rin, then Shoji in his jar. And while Ryo found someone to spar with him (Demon-Fist Master Jin Matoba) on to greater heights, Kazu and Daigo were also captured. Ryo had found the way by fighting Jin, and retrieved his friends. Killed by Dairen'oh.
Personality
to be added
Modus and Arsenal
Notes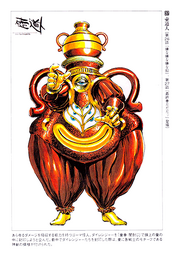 Portrayal
Behind the Scenes
In the unused script "Party Crasher" from the second season of Mighty Morphing Power Rangers, Pot Taoist was to be used as the monster, simply called the Party Crasher Monster. It would be made from a vase that belonged to Aisha Campbell's mother and could suck people into the vase it carried, trapping them.
References
Ad blocker interference detected!
Wikia is a free-to-use site that makes money from advertising. We have a modified experience for viewers using ad blockers

Wikia is not accessible if you've made further modifications. Remove the custom ad blocker rule(s) and the page will load as expected.