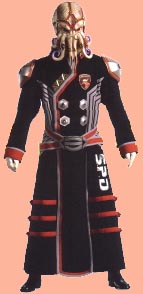 Porupo is Ban's former instructor who was glad to give him away to Doggie.
Notes
Porupo only has a very small appearance in Power Rangers: SPD, his counterpart is an unnamed SPD Official who appears in Endings as part of SPD Headquarters' reinforcements in the battle against the Troobian Empire.
His name is a pun on the Italian word "Polpo", which means "octopus", in reference to his motif.
Ad blocker interference detected!
Wikia is a free-to-use site that makes money from advertising. We have a modified experience for viewers using ad blockers

Wikia is not accessible if you've made further modifications. Remove the custom ad blocker rule(s) and the page will load as expected.