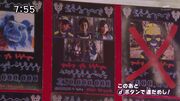 Pongi (ポンギ, Pongyi?) is the universal currency used in the systems ruled by the Space Shogunate Jark Matter. The five-man Kyuranger team, who stood against Jark Matter as part of the Rebellion, were branded with a 50 million Pongi bounty by the Shogunate, divided individually into 10 million. Before they joined the Kyurangers themselves, the BN Team (Naga Rei and Balance) had a bounty of 5 million Pongi, presumably divided into two halves of 2,500,000 for the two thieves. Discovering the Kyurangers' bounty on Zigama, the pair noted it to be 10 times more than theirs. Space.2: Let's Go! Phantom Thief BN Team!
See Also
Ad blocker interference detected!
Wikia is a free-to-use site that makes money from advertising. We have a modified experience for viewers using ad blockers

Wikia is not accessible if you've made further modifications. Remove the custom ad blocker rule(s) and the page will load as expected.