Ad blocker interference detected!
Wikia is a free-to-use site that makes money from advertising. We have a modified experience for viewers using ad blockers

Wikia is not accessible if you've made further modifications. Remove the custom ad blocker rule(s) and the page will load as expected.
Pin Spot Shadow (ピンスポシャドー, Pinsubo Shadō?) is a Shadow Monster that appears in Episode 25 of Ressha Sentai ToQger.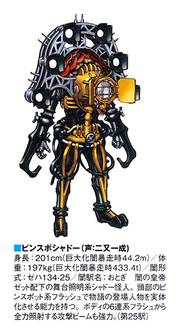 Character History
Pin Spot Shadow was brought back as a ghost by Tombstone Shadow, alongside Jack-in-the-box Shadow and Fence Shadow to back him up in his giant battle against the ToQgers. He was destroyed again alongside Fence Shadow by ToQ-Oh Car Carrier Tank's Car Carrier Tank Shoot. Station 39: The Beginning of the End
Notes
ID Number: Ze Ha 134-25
Station Building: Otogi
Motif: Pin Spot
Height: 201 cm (44.2m: giant)
Weight: 197 kg (433.4t: giant)
"Otogi" is a reference to "Ogi" (

小城

?

), a railway station in the Saga Prefacture.
Behind the scenes
Portrayal