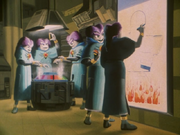 Picta is a planet known for a race of aliens who could control pictures that come to life through drawings created with impliments mixed with their own blood. One of this race, Pain, attempted to assassinate Star King Bazeu, but he destroyed the world and captured the culprit for his crime, later using him as a Space Beast Warrior to force him in an attempt to conquer Earth and defeat Changeman.Ep. 28: The Cursed Crayons
Ad blocker interference detected!
Wikia is a free-to-use site that makes money from advertising. We have a modified experience for viewers using ad blockers

Wikia is not accessible if you've made further modifications. Remove the custom ad blocker rule(s) and the page will load as expected.