PP Chiipuri (プリプリチープリ, PuriPuri Chīpuri, 38)
Character History
Bowzock's best make-up artist. He was used to make the owner of Imocho young again with youth cream supplied by Reckless Dash Emperor Exhaus to allow for him to continue making the imo-youkan they needed for growth (since he was exhausted and was thinking of closing the shop due to his age). Signalman was also affected by the youth cream and temporarily became a child. Chiipuri accidentally destroyed the Norishiron 12 by using the youth cream on it, turning it back into its original cardboard form. He ultimately was destroyed by VRV Robo.
Personality
to be added
Modus and Arsenal
Notes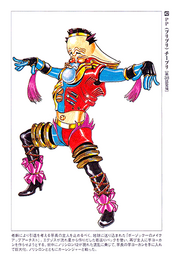 Portrayal
Behind the Scenes
His name is a pun on the word Pretty (Puriichi).
See Also
References
Ad blocker interference detected!
Wikia is a free-to-use site that makes money from advertising. We have a modified experience for viewers using ad blockers

Wikia is not accessible if you've made further modifications. Remove the custom ad blocker rule(s) and the page will load as expected.