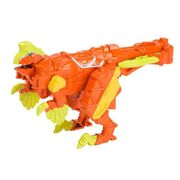 The Oviraptor Zord is a zord that appears exclusively in the Power Rangers Dino Super Charge toyline. It is an orange recolored and remolded version of the Para Zord that is given a crossbow like blaster. Inserting a Dino Charger into its mouth causes its crossbow to fold out. Pressing the black button on the top of the tail causes a pressure-launched missile to fire. It uses the same missile design as all ZordBuilder toys that can fire them. It can form the arm of any Dino Charge Megazord combination.
Ad blocker interference detected!
Wikia is a free-to-use site that makes money from advertising. We have a modified experience for viewers using ad blockers

Wikia is not accessible if you've made further modifications. Remove the custom ad blocker rule(s) and the page will load as expected.