"Dare ja, dare ja?! Da~re, dare ja?! Dare ja, dare ja?! Da~re, dare ja?! Dinomaru!"

―Summoning announcement
OtomoNin Dinomaru (オトモ忍ダイノマル, Otomo Nin Dainomaru?, lit. "Companion Ninja Dino Circle") is an orange auxiliary OtomoNin modeled after a Tyrannosaurus.
Overview
Appearances: The Dinosaur Lord's Splendid Ninja Scroll!, Ninninger vs. ToQger, Ninnin Girls vs. Boys FINAL WARS
History
Dinomaru was summoned during the Ninningers' and ToQgers' battle against the Dark Doctor Mavro as part of an assembly of the six humanoid OtomoNin brought forth before Ha-Oh ToQ Dai-Oh to perform the OtomoNin Connection Splendid Crash finisher alongside the six ToQgers' personal Ressha, with Dinomaru standing on top of Blue Ressha as AoNinger and ToQ 2gou stood on top of it to provide their respective slash attacks, which finally destroyed the Cho Cho Kuliner Robo. Shuriken Sentai Ninninger vs. ToQger The Movie: Ninjas in Wonderland
Dinomaru was summoned by the Ninnin Girls in the Karakuri Battle which decided the outcome of their tournament against the Ninnin Boys, combining with Shurikenjin piloted by NinninWhite, NinninGreen, and NinninRed alongside Gekiatsu Dai-Oh piloted by NinninPink against the Ninnin Boys' Lion Ha-Oh and Bison King. After the Ninnin Boys were beaten back by the Ninnin Girls thanks to a distraction unknowingly provided by the Kibaoni Army Corps, it was Shurikenjin Dino's Shurikenjin Dinomic Summer which sent the Ninnin Boys down and awarded victory to the Ninnin Girls. Come Back! Shuriken Sentai Ninninger: Ninnin Girls vs. Boys FINAL WARS

Formations
Humanoid Form
Once the "OtomoNin Transformation" (オトモ忍・変形, Otomo Nin Henkei?) is announced, Dinomaru transforms into a humanoid form.
Appearances: The Dinosaur Lord's Splendid Ninja Scroll!, Ninninger vs. ToQger, Ninnin Girls vs. Boys FINAL WARS

Shurikenjin Dino
"Ha! Ha! Wassho, Washo-Washo, Di~no Wasshoi! Ha! Ha! Wassho, Washo-Washo, Di~no Wasshoi! Shurikenjin Dino! (Jurassic fanfare)"

―Shurikenjin Dino combination
Shurikenjin Dino (シュリケンジンダイノ, Shurikenjin Daino?) is an alternate form of Shurikenjin formed when Dinomaru takes over Shinobimaru's place with the OtomoNin placed into the formation's right hand, while the giant OtomoNin Shuriken: Dino is placed on the head in place of the Shinobimaru one. This is performed when AkaNinger spins his OtomoNin Shuriken: Dino in the Ninja Ichibantou and the "Shuriken Dino Combination" is announced.
Shurikenjin Dino is armed with the Dino Drill (ダイノドリル, Daino Doriru?) and the Dino Hammer (ダイノハンマー, Daino Hanmā?).
Shurikenjin Dino's finisher is Shurikenjin Dinomic Summer (シュリケンジン・ダイノミックサマー, Shurikenjin Dainomikku Samā?).
Appearances: The Dinosaur Lord's Splendid Ninja Scroll!, Ninnin Girls vs. Boys FINAL WARS

Nin Shuriken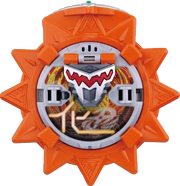 Notes
Dinomaru can be comparable to the Kyoryu Origami from Samurai Sentai Shinkenger.

While not based on the same dinosaur, both function as a special sword weapon rather than the mech's default sword.
Both were used in specials.

The facial plate of Shurikenjin Dino resembles that of the helmet of AbaRed.
Appearances
References
↑

http:/www.orendsrange.com/2015/04/ninninger-3rd-quarter-toy-rumors-new.html

Shuriken Sentai Ninninger
Ninningers
AkaNinger - AoNinger - KiNinger - ShiroNinger - MomoNinger - StarNinger - MidoNinger
Igasaki Clan
Takaharu Igasaki - Yakumo Katou - Nagi Matsuo - Fuuka Igasaki - Kasumi Momochi
---
Apprentice/s: Kyuemon Izayoi (defected) - Kinji Takigawa - Luna Kokonoe
---
Other family members: Tsumuji Igasaki - Harukaze Katou - Sakurako Igasaki
---
Last Ninja: Yoshitaka Igasaki
Gear:
Transformation Ninja Sword Ninja Ichibantou - Transformation Device Ninja StarBurger - Chozetsu Shoubu Changer - Strongest Ninja Sword Ninja Gekiatsuto - Nin Shuriken - Midan Ningeki Karakuri Hengen - Gama Gama Gun - Star Sword-Gun
Allies:
Shishi-Oh - Tetsunosuke Saika XXII - Tatsunosuke Hakkaku - Kikyo Kousaka - Drive Driver

- Kiriko Shijima

- Jun Honganji

- Rinna Sawagami

- Kyu Saijo

- Genpachiro Otta

Shinnosuke Tomari

- Go Shijima

- Yousuke Shiina - Sasuke - Tsuyoshi Kaijo - Toha Yamaji

- Tsubasa Ozu - Asuka Kagura - ToQgers - Zyuohgers
Mecha and Robos
OtomoNin Shinobimaru - OtomoNin Dragomaru - OtomoNin Dumpmaru - OtomoNin Wanmaru - OtomoNin Byunmaru - OtomoNin Paonmaru - OtomoNin UFOmaru - OtomoNin Rodeomaru - Bison King Buggy - OtomoNin Surfermaru - OtomoNin Dinomaru - Sky OtomoNin Lion Ha-Ojo - OtomoNin Hououmaru - OtomoNin Seiryuumaru - OtomoNin Genbumaru - OtomoNin Byakkomaru - OtomoNin Pandamaru - OtomoNin Magoimaru
Shurikenjin - Bison King - King Shurikenjin - Lion Ha-Oh - Ha-Oh Shurikenjin - Gekiatsu Dai-Oh - Ha-Oh Gekiatsu Dai-Oh
Kibaoni Army Corps
Gengetsu Kibaoni
Generals: Kyuemon Izayoi - Raizo Gabi - Masakage Tsugomori - Ariake no Kata - Mangetsu Kibaoni - Juza Yumihari
Yokai: Yokai Kamaitachi - Yokai Kappa - Yokai Kasha - Yokai Tsuchigumo - Yokai Ungaikyo - Yokai Buruburu - Yokai Tengu - Yokai Nekomata - Yokai Oogumo - Yokai Ittan-momen - Yokai Daidarabotchi - Yokai Enraenra - Yokai Yamawarawa - Yokai Yamabiko - Yokai Futakuchi-onna - Yokai Kasabake - Yokai Umibozu - Yokai Otoroshi - Yokai Baku - Yokai Nurikabe - Yokai Yuki-Onna - Western Yokai Franken - Western Yokai Dracula - Yokai Mataneko - Western Yokai Wolf Man - Yokai Mokumokuren - Yokai Amikiri - Yokai Fudagaeshi - Yokai Wanyūdō
Advanced Yokai: Advanced Yokai Nue - Advanced Yokai Konakijiji - Advanced Yokai Oumukade - Advanced Yokai Oboroguruma - Advanced Yokai Binbogami - Super Advanced Yokai Shuten-douji
Ninjas: Speed Ninja Hayabusa - Sugoroku Ninja Ikkakusai - Puppet Ninja Kuroari - Substitution Ninja Mujina - Poison Arrow Ninja Suzumebachi
Footsoldiers: Hitokarage - Jukkarage - Hyakkarage - Giant Yokai Gashadokuro - Genin Supparage
Mecha: Karakuri Kyuubi - Red Kyuubi
Other
Roidmudes:
Heart

- Brain

- Medic

- 089/Doctor D/Shocker Buruburu

- 057

- 016

- 076

Shocker

:
Great Leader of Shocker

- Hiruchameleon

- Turtle Bazooka

- Shocker Combatmen

- Rider Robo

Hyakki Yakou: Dorodoros - Genin Magerappa
View • Talk • Edit
Ad blocker interference detected!
Wikia is a free-to-use site that makes money from advertising. We have a modified experience for viewers using ad blockers

Wikia is not accessible if you've made further modifications. Remove the custom ad blocker rule(s) and the page will load as expected.